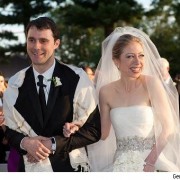 Every marriage will have some stumbling blocks, but interfaith marriages have a few extra challenges.  The issue of the couple's interfaith needs to be talked about and dealt with prior to the interfaith marriage.  This discussion should include what exactly is important to you in your religion and what are the non-negotiable items.  This can prevent surprises later on in the marriage by knowing your differences ahead of time.
A few obstacles you want to discuss before you get married are:
What are the expectations for the holidays and how will you celebrate them?  You can start by finding out how did your partner celebrate them in the past before they met you.
Discuss future expectations of how you will raise the children. Again, you can start by discovering what were the family traditions in your partner's family while they were growing up.
Another important topic to discuss is what are the in-laws expectations and how do you both want to deal with them.
A few ways to overcome the obstacles are by:
Communicate, communicate, communicate and more communication!  When a couple keeps the door open and are flexible with each other, they are more likely to end up on the same page.  They want to create a blueprint for their future life together.
Make sure you celebrate the things that brought you together, such as the things that you have in common. This can help you enjoy those differences, which can essentially help you grow, learn and expand who you both are as a couple.
Discuss and have a game plan for how you will respond if challenged by your extended family.  You want to present a united front to your families.  You also want to consider how you will prevent the children from experiencing those potential challenges in the future as well.
Recent surveys, one in three U.S. Couples are in interfaith marriages and half of all Jews marry outside of their faith (InterfaithFamily.com).
Religion differences in an interfaith marriage won't necessary cause a relationship to fail, but the inability to handle the differences can contribute to the difficulty.
NOTE: You can freely redistribute this resource, electronically or in print, provided you leave the authors contact information below intact.
Author: Janie Lacy
Comments