The latest Hollywood love news is that Kim Kardashian was presented with a 15-carat diamond ring from her long-term rapper boyfriend Kanye West, on her birthday October 21, 2013.  This will be Kardashian's third attempt to walk down the aisle into matrimony bliss or will she?  Why does she keep making the same mistakes in love?  Could this be prevented?  Would premarital counseling help her?  I believe 100% it would benefit  her and that it would help all couples wanting to get married.
Everyone loves to hear a great love story let alone be living in one.  The chance meeting, the butterflies, the anticipation, the excitement, the first kiss, the courtship, and then the engagement for marriage.  Little girls have been trained during childhood from watching Disney movies to believe in their Prince Charming coming to rescue them and then they live happily ever after, or do they?  Research shows that the divorce rate is 40-50% of marriages will end in divorce and those who have had a 2nd or 3rd marriage the rates are even higher.   So why does this keep happening to couples.  No one is immune to divorce so its valuable to seek premarital counseling to learn more things about your spouse, discuss important issues that may not come up in courtship, and to learn tools to cope with marital stressors.
More Videos on This Topic 
7 Important issues to address with yourself and your partner before marriage
Are you willing to grow up?  In a marriage you are no longer alone in deciding important life decisions let alone everyday little decisions on what to do in your life.  All your behaviors impact directly your spouse.  Are you willing to make sacrifices for your loved one and not have your life be all about you?
Do you have similar spiritual beliefs?  One of the common perpetual issues that couples face is if they have similar religious, moral and ethical values?  This usually does not change after marriage let alone in one's lifetime.  It is essential to talk to this all out with your partner to see and understand if your values align with one another
Have you talked about how you will spend your money together?  Another reoccurring stressor and argument that happens in marriage is money.  It is important to discuss how each of you view money.  Is there a family budget?  Is their one partner who is an over spender and has substantial credit card debt?
Will you tell the truth?  If you or your partner is harboring secrets from each other this can cause a major upheaval in your marriage if this comes out later.  Remember everything comes out into the light at one point.  Secrets are unhealthy to keep so make sure you have been 100% honest with your partner about your past or present struggles so they accept and understand you now so they can learn to love you unconditionally.
Will you commit?  When you ask couples who are married over 50 years what helped them sustain their martial bliss they usually say commitment.  No matter what is going on, what trials or seasons, good or bad, you must be willing to commit to your partner to weather the storms of life.  That is why the wedding vows explicitly say in good times or bad in sickness or health, rich or poor.
Have you communicated your expectations?  This is so important for couples to discuss the roles and responsibilities they expect from their spouse when they are married. Unrealistic or unexpressed expectations can lead to disappointment, anger, resentment, and dissatisfaction.
Are you compatible?  They say opposites attract but does this make an enriching long lasting union?  Do you have similar interests?  Do you have the same arguing style? Do you like each other's friends or family members?  It is good to have some things different from your mate but these above questions need to be looked at for long-term compatibility.  It is important for each person in the relationship to feel understood, loved, valued, and respected.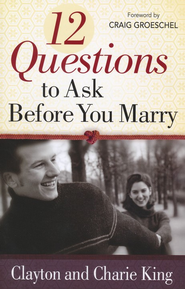 These are just a few of the important questions to ask yourself and your partner before marriage.  If you are already married these questions are also valuable to process as well to make your marriage more enriching.  Every couple has strengths and areas of improvement.   It is important as a couple that you continue to grow together while facing challenges.  We never stop maturing and developing our character strengths.  In relationships are flaws tend to come out more due to the life trials we face during different seasons of our lives.  There is no better place to work on these flaws then together as a couple were there is supportive, loving, andenvironment fostered by each other.  Premarital counseling services are provided by several of Total Life Counseling Center's therapists.  Some are trained to provide clients with an PREPARE/ENRICH  customized computerized assessment on couple's strengths and growth areas.  You can check out more about this tool at www.prepare-enrich.com .  Another resource that was used in this article was 12 Questions to Ask Before You Marry by Clayton and Charie King.   
NOTE: you can freely redistribute this resource, electronically or in print, provided you leave the authors contact information below intact. Author: Dana West, MSW, LCSW is an Orlando Marriage Counselor & Addictions, Sexual Abuse Trauma Therapist with Total Life Counseling Center with offices in Southwest Orlando, East Orlando, Winter Park, Lake Mary & Clermont Florida.