Dr. Leslie Hamilton, PhD is an Orlando & Lake Mary Marriage Counselor, Divorce Consultant, Play Therapist and Parenting Coordinator
Philosophy of Care:
Leslie is a Psychotherapist, Couples Counselor, Divorce Consultant and Parenting Coordinator,  who draws upon her background in Cognitive-Behavioral and Narrative Therapies to guide her work. Her therapeutic approach is to provide a comfortable, relaxed environment in which to offer support and practical feedback to help clients address their personal life challenges. She integrates complementary methodologies and techniques to offer a highly personalized approach to each client, couple or family. With compassion and understanding, she works to help clients identify and build upon their strengths and resources in order attain their personal goals.
Dr. Leslie Hamilton, PhD is a professor at Palm Beach Atlantic University teaching play therapy and family therapy.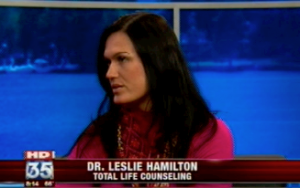 Personal:
Dr. Leslie understands the challenges that individuals face in trying to balance work and family, while trying to maintain a peaceful home and emotionally connected marriage. Having experienced the divorce of her parents at an early age, Dr. Leslie remains committed to assisting couples in navigating the divorce process in a way that best meets the needs of their children.
Media Interviews our TLC experts on Marriage, Abuse and Addictions Issues 
Educational:
After graduating with a Bachelor's degree in Psychology from the University of Florida, Dr. Leslie attended the University of Miami, where she earned a Master's degree in Counseling Psychology. She continued her studies at Nova Southeastern University, earning her Ph.D. in Family Therapy.
Areas of Expertise:
Dr. Leslie provides individual, couples and family counseling to address a wide range of concerns. Her areas of treatment specialization include:
Certified Collaborative Law Counselor | Therapist
Child Play Therapy
Depression and Anxiety
Stress Management
Prenatal and Postpartum Stress
Conflict Resolution
Hypnotherapy for Pain Management/Anxiety/Trauma
Professional Experience:
Dr. Leslie has over ten years experience counseling couples, and adults in a variety of clinical settings. She has:
Worked with victims of abuse and neglect through community mental health centers in South Florida, as well as Central Florida.
Taught court-approved anger management and parenting classes.
Provided individual counseling on a variety of issues, including anxiety, depression, "feeling lost," lack of personal fulfillment, and more.
Maintained a private practice in which she provided marital counseling on such issues as infidelity, sexual distress, poor communication, emotional detachment, and parenting differences.
Served as a Court Appointed Parenting Coordinator to families in the divorce process, to assist parents in working collaboratively in co-parenting their children.
Professional Licenses and Associations:
Dr. Leslie is a licensed Marriage and Family Therapist in the State of Florida (# MT 2371), and is a member of the American Association of Marriage and Family Therapists (AAMFT).