Autism Counseling & Therapy Services in Orlando, East Orlando, Lake Mary, Winter Park & Clermont Florida FL
What is autism?
Autism is a neurodevelopmental disorder characterized by strange behavior in social interaction and communication with others, Repetitive patterns of behavior or interests can also be a sign of Autism. The word "autism" is a general term used to describe a group of complex developmental brain disorders known as Pervasive Developmental Disorders. Autism can appear in the first 3 years of life, and affects the brain's typical development of social and communication skills.
Who has autism? 
Boys are 3 to 4 times more likely than girls to have autism. The exact number of children with autism is still unknown, but it is estimated that one in every 110 children is diagnosed. It is more common than several other childhood diseases combined. An estimated 1.5 million individuals in the U.S. and tens of millions worldwide are affected by autism.
Our Autism Expert Videos  
What are the symptoms?
Children with Autism typically show trouble in the following areas:
Pretend play
Social interactions
Verbal and nonverbal communication
Treat all communication literally instead of figuratively when people are joking or illustrating.
People with autism may:
Be overly sensitive in sight, hearing, touch, smell, or taste (for example, they may refuse to wear "itchy" clothes and become distressed if they are forced to wear the clothes)
Have unusual distress when routines are changed
Perform repeated body movements
Show unusual attachments to objects
The symptoms may vary from moderate to severe. Communication problems may include:
Cannot start or maintain a social conversation
Communicates with gestures instead of words
Develops language slowly or not at all
Does not adjust gaze to look at objects that others are looking at
Does not refer to self correctly (for example, says "you want water" when the child means "I want water")
Does not point to direct others' attention to objects (occurs in the first 14 months of life)
Repeats words or memorized passages, such as commercials
Uses nonsense rhyming
Social interaction:
Does not make friends
Does not play interactive games
Is withdrawn
May not respond to eye contact or smiles, or may avoid eye contact
May treat others as if they are objects
Prefers to spend time alone, rather than with others
Shows a lack of empathy
Response to sensory information:
Does not startle at loud noises
Has heightened or low senses of sight, hearing, touch, smell, or taste
May find normal noises painful and hold hands over ears
May withdraw from physical contact because it is overstimulating or overwhelming
Rubs surfaces, mouths or licks objects
Seems to have a heightened or low response to pain
Play:
Doesn't imitate the actions of others
Prefers playing by themselves unless peers are playing what they want to play
Ritualistic play
Shows little pretend or imaginative play
Behaviors:
"Acts up" with intense tantrums
Gets stuck on a single topic or task (perseveration)
Has a short attention span
Has very narrow interests
Is overactive or very passive
Shows aggression to others or self
Shows a strong need for sameness
Uses repetitive body movements
Effective Therapy & Treatments from TLC?
Our counselors will work with you and/or your children personally to help you cope with the symptoms of Autism. Through our
Play Therapy, Sand Tray
,
Dance Therapy
and other treatments, we will assist you with mechanisms you can use for everyday life to deal with Autism in yourself or loved one.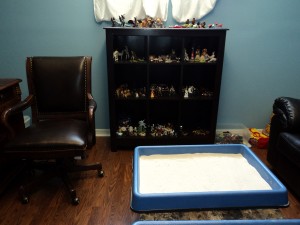 Sand Tray Therapy is a powerful accelerated counseling tool for any children that lack the ability to express themselves.  Through the use of figurines, toys, and sand children with or without autism can express what is trapped in their mind through non-directed play therapy techniques often in the first session!  

It's amazing what some autistic, aspergers, pervasive developmental disorder children are thinking or perceiving and often their thoughts or perceptions are distorted and can bring tremendous relief once they express their thoughts and feelings!
Why TLC – Wellness & Supplements instead of Medication in most cases:
Often students with Autism also have ADHD symptoms and Anxiety.  ADHD is often treated with stimulants that wake up the frontal lobe to help with focus.  However, stimulants like Concerta, Vyvanse, Adderall, Ritalin, Daytrana, Focalin, make Anxiety symptoms worse and can lead to OCD symptoms.
Anxiety is technically and overstimulated brain so the stimulants over stimulate more and can cause intense irritability, rage, impulse control, and more while the stimulant is in the system and when it wears off.
Our therapists will give suggestions to suggest to your doctor for supplements, and dietary adjustments that often work the same day in place of the medications without the side effects of the medications.
Call us Today for a Complimentary Phone Consultation (407) 248-0030!