TESTIMONIALS:
Camp was uber-awesomeness amazing fun times. Thanks for doing the camp "truly one of, if not, the greatest week of my life.
He had a really great week, thank you very much to Jim and Seth and all you very special caring people. Jim, you are an angel here on Earth doing very important work. We are lucky to have you in our lives!
"Tommy (Thomas as he now prefers) is doing awesome! You would be so amazed to see God's work in progress. Your leadership camp has changed Tommy's life!
He really enjoyed camp!  The best story was about his distractible and kind of stubborn horse who would not follow directions at first… when I asked what he did, he explained that as they got to know each other better, he started to do what I wanted him to… but he still kept looking over there because he has a short attention span…. when I asked why over there? he said come here and i will show you…. well, over there is where the donkeys and a couple of other animals were housed and his horse was more interested in them than what he was supposed to be doing…what a lesson for him in the car, on the way home he also shared about some of the talks and activities they participated in, the other boys, he considered basically all the boys in his dorm group as friends, vs. being the kid who only wants one or two good friends and insists on keeping a distance with all others….
---
Channel 13 News : How our Orlando camps & groups help students with Social Skills.
Summer Leadership Horse Camp Information
Summer Leadership "Horse" Camp & Information
Horse Facts-Learn the history of each horse and how that plays into their personality and how horses are similar to people. Students will compare socialization with horses with people and will learn how to pick up on non-verbals of horses, proper boundaries, how to connect with the horse, communicate and approach their horse.
Grooming and Caring for the Horse
Barn Chores
Horseback Riding and Techniques
Spaces are Limited so Call Now to Register!
What to Do: Application-Day Camp Registration Packet
When: June 2, 2012, 12:30pm-4:00pm
Cost: $100.00
Where: 15100 Lake Pickett Road  Orlando, FL 32820
If you are lost call: (407) 929-0970
Read More about Painted Oaks Academy
What to Bring:
Bug Repellent & Sunscreen
Closed toe shoes
Jeans are recommended but shorts are acceptable
Lunch is not provided
Parent meeting is at 3:30pm
Horse Leadership Social Skills Flyer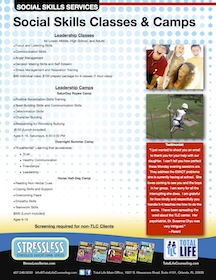 Key Benefits
Orlando Horse Camp includes the incredible experiential learning of a challenge/ropes course, swimming and canoeing will be included.  Students will receive coaching/mentoring in the following areas:
For Students ages 6-17.  Students will be divided by age groups at the Day Camp.

Observe student interactions with peers and redirect them by providing tools for positive socialization.

Campers will build relationships as they work together to solve each challenge, learning to trust each other and become trustworthy.

Students will learn how to read the body language and non-verbals from a horse as well as empathy, trust, teamwork and respect.
Character Building
Leadership/Communication Skills
Responding to Provoking/Bullying
Anger Management/Conflict Resolution Coping Skills
Support Learn to overcome fears by facing fears
Reduce Depressive symptoms by building self-confidence
Reduce Anxiety by building learning how to face fears
---
15 Symptoms or Tips to Identify Social Delays
If you can answer yes to two or more of these items about your student they may need help to connect socially with their peers and to prepare for the real world. Here are a few symptoms to look for:
Doesn't recognize non-verbal cues
Gets in peers personal space
Annoys to get attention because they do not know how to get it another way
Low self confidence
Poor eye contact
Only interested in themselves rather than taking an interest in their peers
Talks too much
Lacks assertion
Impulsive or blurts out responses
Tries too hard to make friends laugh – thinks humor will make them friends
Reacts to teasing and does not know how to roll with conflict
Has a need for justice & fairness and judges peers
Isolates or withdraws from peers
Always wants to be first or wants to play what they want
Kids do not call for play dates or to hang out!
Kids Leadership Camp – Fun Summer Camp Builds Kids & Teens Leadership, Learning & Life Skills – This adventure camp for students in the Orlando, Windermere, Dr. Phillips, Metro West, Clermont, Lake Mary and the surrounding Central Florida areas. Students that may have social skills issues with their peer group or lack assertion/confidence benefit from participating in this Camp.
Call (407) 248-0030
---