Lufthansa Plane Crash linked to Pilot Suicide? | Tips To Conquer Depression | Orlando Counselor Jada Jackson LMHC
The news of the Lufthansa plane crash shocked and saddened the world, however, as details of the crash continue to unfold, many are left with more questions than answers.
The co-pilot of the Germanwing Airline- Lufthansa, Andreas Lubitz, is suspected of deliberately crashing the plane into a mountainside, loaded with 150 people. The operator of the airline said that Lubitz had taken
a break during his training, but upon returning to his training Lubitz was thoroughly tested and cleared, and considered 100% ready to fly. The airline was not allowed to comment on how Lubitz had taken a break but his daughter allegedly disclosed to a close friend that her dad's break in training was due to "a burnout, a depression."
Depression does not explain why the co-pilot took 150 passengers down with him or why he would not let the pilot reenter the cockpit, even after several minutes and multiple attempts to enter. Audio from the cockpit also revealed silence on Lubitz's end, but sounds of frantic panic from the pilot and flight attendants attempting to prevent the impending danger, and fearful screams from the scared passengers. This recording shows no attempts from Lubitz to save the plane, and the code entered to descend the plane was voluntarily administered by Lubitz. All signs point to the plane crash being a deliberate and intentional act.
How did this happen? And how can we prevent this from happening in the future? The New York Times reported that Lubitz hid his mental health records, which is against company policy. If the airline officials were to gain access to those mental health records, the crash may have been avoided because several doctor's evaluations indicated that Lubitz was too ill to work.
Airlines and their regulation agencies have strict rules when it comes to flying and mental health. But the problem comes in obtaining the information. The "gatekeeping system" in the United States and abroad relies heavily on pilots volunteering their information. The spokesman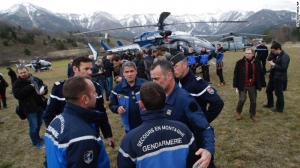 for Lufthansa, Martin Rieckman, stated that doctors employed by the airline examined pilots at least once a year. But as with most airlines the annual checkups focus mainly on the physical fitness to fly, not as much focus is placed on their mental state.
Psychological evaluations are crucial in any work environment, but are especially important in positions that involve the safety and security of other people's lives. My hope is that other airlines will take note of this tragedy and set in annual or biannual evaluations that specifically focus psychologically. If these measures would've been taken 150 lives could have been saved. But there is a positive to come out of this and the terrible devastation can serve as a launching platform for further mental health evaluations and companies recognizing their importance to saving people's lives.
Tips for Those Suffering with Depression or Extreme Sadness:
Go to a doctor or a licensed therapist. Suffering alone and not fully understanding what's going on mentally can be very scary for many people, and something they often want to avoid. But going to a doctor or therapist can actually be extremely validating and beneficial in terms of recovery. It can also help prevent you from participating in any destructive behaviors when thought patterns are unclear or erratic.
Build a supportive network. Depression can make you want to isolate and build a shell around you to keep others away. But this is the depression taking because being around other supportive people makes you feel less alone and allows you to release some of the burden you are carrying. As much as you may not want to, reaching out will ultimately lead you to happier and more positive outcome.
Participate in activities you once enjoyed. This helps regain your sense of community, purpose, and passion. You can't make yourself experience pleasure but you can open yourself up to activities that allow that emotion to be an option.
Quick Tips:
ENLIST a counselor to walk the journey with you
EXPLORE medication options (if applicable)
EXERCISE to balance brain chemicals
EAT healthy to help repair your body's deficiencies
SLEEP to regain balance in your body and mind
REFRAME negative thoughts and replace with positive thoughts
DEVELOP a healthy support system
NOTE: Freely redistribute this resource, electronically or in print, provided you leave the authors, name, credentials, and contact information below intact and include a link to this article.
AUTHOR: Jada Jackson, MS, LMHC – Communicator, Coach & Licensed Mental Health Counselor working with couples, teens, young adults and women empowerment issues in Orlando and East Orlando Florida!  Jada Jackson can be reached at (407) 248-0030.
AUTHOR: Dani James (Intern: University of Central Florida)