Toddlers & Tiaras | Moms living vicariously through their daughters | Healthy or Harmful?
TLC's hit show Toddlers & Tiaras showcases the real life drama of beauty pageants and the behind the scenes chaos. Temper tantrums, explosive arguments and competitive mothers have become the drawing card for millions of viewers. With a great deal of controversy, this reality series sparks questions regarding the oversexualization of little girls and mothers that are forcing their daughters to be perfect. Sexy outfits, provocative dance routines and flirty personalities have become the tools used to pursuade judges to give the highest score to the most deserving contestant. So, the question is, "How much is too much?"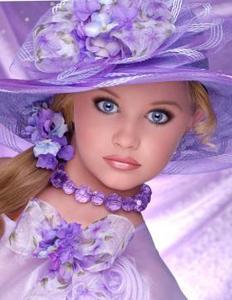 According to Fox News, "TLC's hit series "Toddlers & Tiaras" caused outrage last season when 3-year-old pageant princess "Peppermint Paisley" performed a "Pretty Woman" routine, dressed as Julia Roberts' 90s character, the hooker with a heart of gold Vivian Ward. Despite the widespread public outrage over the pint-sized prostitute costume, Paisley's mom has returned for another season of "Toddlers & Tiaras" and is actually boasting about all the positives the incident brought her young daughter. 'I love living vicariously through my 3-year-old daughter Paisley,' mom Wendy gushes in the premiere episode, which airs Wednesday. 'Paisley has competed in over 60 pageants, but it was definitely the 'Pretty Women' costume that put Paisley's name out there.'"
Dressing 3-year-old little girls like prostitutes is certainly an eyebrow raiser. With the rise of reality series such as Dance Moms and Toddlers & Tiaras, adults worldwide are questioning the parenting skills of mothers that confess they are living vicaiously through their daughters. According to a PEOPLE article, New York-based liscensed clinical social worker Mark Sichel says, "'Little girls are supposed to play with dolls, not be dolls.' He adds that the extremes parents go to in order to prepare their children for competition – using padding, fake hair, flippers (faux teeth) and spray tans – 'causes the children tremendous confusion, wondering why they are not okay without those things."
With shows like Toddlers & Tiaras showcasing oversexualized girls, how can parents protect their children from developing a false sense of identity and self-esteem? First, it is important to understand self-esteem. According to APA's glossary, self-esteem is defined as "A generalized evaluative attitude toward the self that influences both moods and behavior and that exerts a powerful effect on a range of personal and social behaviors." It is important for parents to cultivate positive self-esteem through positive affirmations, emotional support, foster positive body image and teach children to engage in healthy relationships
More Videos on This Topic 
How can parents help their daughters develop healthy self-esteem? Anita Gurian, Ph.D.  says:
Although the media, peers, and pop culture influence children, parents still hold more sway than they think when it comes to having an impact on a daughter's developing self-esteem. Here's how parents can help:
Monitor your own comments about your self and your daughter.
Get dads involved. Girls with active, hardworking dads attend college more often and are more ambitious, more successful in  school, more likely to attain careers of their own, less dependent, more self protective, and less likely to date an abusive man.
Watch your own stereotypes; let daughters help fix the kitchen sink and let sons help make dinner.
Encourage your daughter to speak her mind.
Let girls fail – which requires letting them try. Helping them all the time or protecting them, especially if done by dad, can translate into a girl feeling incapable or incompetent.
Don't limit girls' choices, let them try math, buy them a chemistry kit. Interest, not just expertise, should be motivation enough.
Get girls involved with sports/physical activity, it can reduce their risk of chronic diseases. Female athletes do better academically and have lower school drop-out rates than non-athletes. Regular physical activity can enhance girls' mental health, reduce symptoms of stress and depression, make them feel strong and competent
Watch television, movies, and other media with your daughters and sons. Discuss how images of girls are portrayed.
 Counteract advertisers who take advantage of the typical anxieties and self-doubts of pre-teen and teenage girls by making them feel they need their product to feel "cool." To sensitize them to this trend and to highlight the effect that ads can have on people, discuss the following questions (adapted from the Media Awareness Network) with children:
a)   Do you ever feel bad about yourself for not owning something?
b)   Have you ever felt that people might like you more if you owned a certain item?
c)   Has an ad make you feel that you would like yourself more, or that others would like you more if you owned the  product the ad is selling?
d)  Do you worry about your looks? Have you ever felt that people would like you more if your face, body, skin or hair looked different?
e)  Has an ad ever made you feel that you would like yourself more, or others would like you more, if you changed your appearance with the product the ad was selling?
It is within the family that a girl first develops a sense of who she is and who she wants to become. Parents armed with knowledge can create a psychological climate that will enable each girl to achieve her full potential. Parents can help their daughters avoid developing, or overcome, negative feelings about themselves and grow into strong, self-confident women.
If you or someone you know are struggling with negative self-esteem, poor body image or Body Dysmorphic Disorder please contact a counselor to assist you.
NOTE: you can freely redistribute this resource, electronically or in print, provided you leave the authors contact information below intact.
Author: Jada Jackson, M.A. M.S. Register Mental Health Counselor Intern #9777 Author, Life Coach, and Communicator