The death of Sylvester Stallone's son Sage has devastated family, friends and fans. A young man with a promising life ahead, Sage passed Friday July 13th at the age of 36. The cause of death is unknown, making it harder for those grieving for him to cope with the situation. Disbelief, astonishment, and anger are undoubtedly the emotions of his parents. For everyone, the process of grieving is the same. We all go through stages of mourning before we are able to accept what has happened. Generally, there are five stages we experience after the death of a loved one.
More Videos on This Topic 
1. Denial and Isolation
When we are faced with the reality of an overwhelming situation, such as the death of someone close to us, our natural defense is to deny the truth. Denial is our body's way of protecting us from experiencing intense and overpowering emotions. We shut down and pull away from the outside world. It is often normal for people to be in a fog for a while and not show any signs of distress, such as crying or sadness. People may go on as if nothing has happened, making themselves extremely busy and compensating with a seemingly elated mood.
2. Anger
As our denial wears off and protective barrier fades, reality begins to reach us and we retaliate. The pain of the loss is still too much for us to bear, and internal pain becomes external anger. This anger may be directed anywhere; towards family, doctors, inanimate objects or even the deceased. We may feel angry at our loved one for leaving us or causing the pain we are experiencing. Then we feel guilty for being angry at them, and become angry with ourselves for feeling this way.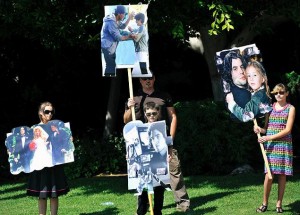 3. Bargaining
Once our anger begins to subside, emotions of helplessness and vulnerability replace it. We ask ourselves what we could have done to stave off death. If only we could have seen them more. Why didn't we seek help sooner? I should have done something. The truth of the matter is nothing we do can stop life from happening. Our last attempt is to reason with ourselves to try and regain control. Usually at this point we bargain with ourselves and a higher power, praying that it is a dream or a joke and all will be fine in the morning.
4. Depression
Once we lose our battle to overcome reality, depression takes over. We experience both internal and external depression. We appear visibly sad to others, worry about the future, and express regret. This type of depression is often comforted by the presence of others sharing the same emotions, such as family and friends. There are also more private feelings of dealing with the loss, as we slowly work out our feelings in solitude. We prepare ourselves mentally for what the death of a loved one will means in terms of our daily routine. We figure out how we can live our lives without someone we dearly love.
5. Acceptance
After a long, long battle with our feelings of anger and denial, there comes a day where things seem a little bit easier. We become oddly calm as peace washes over us. It is not a feeling of happiness, but the weight of depression has lifted. We start a new routine, and find it easier to get out of bed in the morning and take care of ourselves. We accept our reality and know that we will be okay.
It is important to note that not everyone may experience all of the steps, or they may be experienced out of order. It is common for people to reach acceptance and then regress back when faced with difficult situations, such as cleaning out a loved one's home. You may feel alone during such a hard time, but you aren't. Lean on friends and family for support, and recognize that everyone close to the deceased is feeling exactly as you are. Also be aware that professional help is available for an individual or group of family members.
If you need help dealing with the loss of a loved one, don't hesitate to call 407-248-0030
http://psychcentral.com/lib/2006/the-5-stages-of-loss-and-grief/
NOTE: you can freely redistribute this resource, electronically or in print, provided you leave the authors contact information below intact.
Co-Authors: James L West, MA, LMHC, NCC & Dr. Leslie Hamilton, PhD., LMHC | Communicator, Author, Coach and Licensed Mental Health Counselor
Co-Author: Kaylee Murdaugh, Student Intern