Play Therapy & Counseling Services in Orlando, East Orlando, Lake Mary, Winter Park & Clermont Florida FL
WHY PLAY?
Children often do not respond to traditional talk therapy and may be ashamed of their trauma. As a result they may not be able to verbalize their fears or concerns, but with play they can act out events with puppets or select figurines in a sand box/tray that represent their hurts or represent their victims.
Play therapy is also stimulating, tactile, visual, and experiential and can significantly accelerate the healing process!
Play is as important to human happiness and well being as love and work (Schaefer, 1993). Play is fun and enjoyable. It elevates our spirits, expands self-expression, creates awareness, and promotes self-actualization.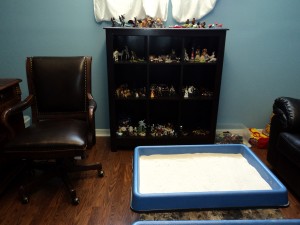 TLC Counselors in the News 
WHAT IS PLAY THERAPY?
Play Therapy is different from regular play. A play therapy session is conducted with a child in a safe, contained environment where toys and materials are utilized to help assist the child to work through their issues and concerns.
Emotions are allowed to be fully expressed and worked through with guidance and encouragement of the therapist who facilitates the play session.
Play is the child's language and the trained play practitioner can begin to develop a hypothesis of what the child's issues are through looking at the child's play themes and repetitious patterns in the child's play.
Total acceptance, empathy, and approachable play therapists encourages children to play freely in a safe and contained play environment. A child can explore their inner selves without censorship.
In the play environment children can try out different roles and work through their conflicts.
As the child forms a relationship with their therapist, they are able to develop trust, improve self-esteem, and self-efficacy is promoted.
WHO CAN BENEFIT FROM PLAY THERAPY?
Children
Adolescents
WHAT CAN PLAY THERAPY HELP?
Anger Management
Social Skills or Social Issues
Emotional or Behavioral issues
Learning Disabilities
Awareness and education of emotions and processing these emotions
Crisis or Trauma to include child abuse, domestic violence, natural disasters, and divorce
ADHD, ADD, ODD
Anxiety or Depression
Autism Spectrum Disorders
Academic or Social Development
WHAT ARE THE BENEFITS OF PLAY THERAPY?
Play therapy allows a child to manipulate the world on a smaller scale so that he/she feels more in control of their world and can carry this newfound confidence into the real world. The therapist totally accepts whatever the child may do or say so they may freely express themselves without reservation. Limits are set only if safety or destruction of play materials becomes a possibility. Children learn how to self-regulate or set limits for themselves without assistance.
Play therapy helps children prevent or resolve psychosocial difficulties and achieve optimal growth and development.