StressLess with College Transitions Video Tips
Video Help and Tips with High School Transitions to College & Affordable Online Career Assessment Tools – Bonus ADHD College Tips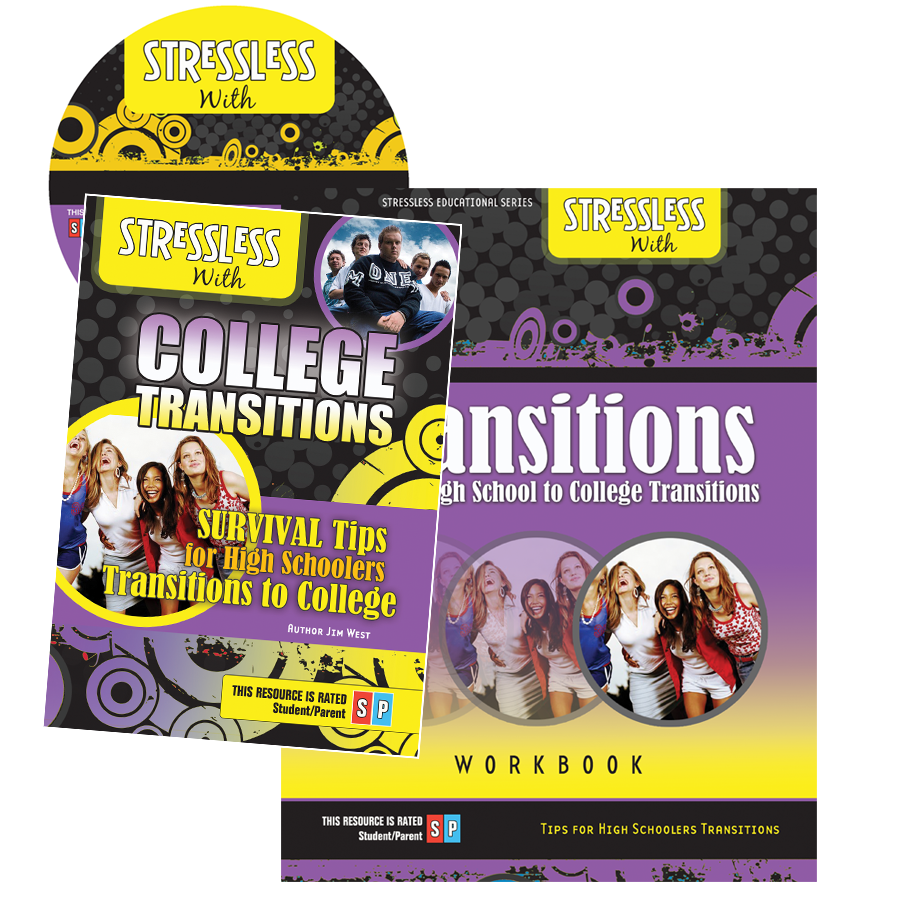 Transitions to College And Survival Tips for High Schoolers

Total Program Video & Workbook Combo | Price Only: $35.00
Topics for College Transitions
Pick the right career with the best online assessment. There are hundreds of online career assessments but the one Jim West recommends tells you:

Is it a growing career

How fast is it growing

There is a find jobs button to look for internships and jobs when done with your degree

Connects you to local chapters of national organizations in your field to network with professionals

Matches a career based on more than just your interests, but also your personality, identity, values and knowledge skills and abilities.

Learn how much your job matches pay in whatever US zip code you pick

Are you concerned about having a job when you complete your degree. Pick a career where there is jobs!

Learn ways to connect with national organizations & local chapters in your area to start networking and find internships in your industry!

Learn about how diet effects motivation, how we feel and focus!

Are sleep patterns important

Use the same tool Fortune 500 companies use to find your strengths and change your job description for you so you can only do what you are great at doing naturally!

Go into job interviews knowing your strengths and how they line up with the job description for the job you want.

"Wise people learn from other's mistakes!" You will learn from other college students what not to do from their own experiences.

Choosing colleges

How to apply to college, write an essay, personal references, etc.

Developing new social circles and organizations/clubs

What you can do during college to get experiences that will reflect well on your resume!

Finances

College with ADHD
There is a 30 Day Money Back Guarantee! We are sure you will be satisfied and you can keep the workbook and video even after getting a full refund!
News Media interviews our College Experts
Who is StressLess Series Author Jim West, MA, LMHC
When Is It Too Young To Go To College
Fox 35 Interviews our Marriage Counselor Expert
What percentage of college students complete their degree?
58% of college students obtain a degree and there are many reasons why 42% don't make it!
Homesickness

Challenges balancing work, social and academics

Alcohol or Drugs

Financial struggles

Motivation lost trying to find the right career path

Freshman 15 – Often gain 15 pounds in the first year due to diet but do not realize how what they eat effects how they feel!
The Two Most Important Decisions to be Happy!
There are 2 decisions that if made correctly, sets the stage to happiness!
Picking the right career – Most do not feel they are even working when they pick the right job!
Picking the right spouse
We spend most of the rest of our lives in our career and with our spouse (at least that is the plan). So if we choose well we will go to work and love what we do, be productive and look forward to going home, spending the rest of our time with the ones we love!
1 out of 3 people choose the career that they were made to do
How depressing it is that 66% of people do a job their entire life that they hate!
One third of people pick a major and hate their degree so much they pick a career different than their degree!

One third of people pick a major and use their degree just to pay their school loans and pay their expenses!

One third of people pick a career path that fits them perfectly and do not feel they are working at all!
So who would you like to be?
Would you like to pick the right major at the beginning of your college career and hit the ground running in the right career? If so Jim West's program is for you!
Bonus Tips for ADHD Tips for College Students
Google Calendar can be used to be on time and stay organized.

Learn what colleges or universities accommodate the best with ADHD.

College Accommodations to request – Extra time to turn in work, and more time for tests.

Diet that works great for all students as well as ADHD and Vitamins for ADHD symptoms in place of medication! ADHD Coach, Jim West specializes in helping ADHD college students and has helped thousands by recommending vitamins you can buy over the counter. Only 1% of vitamins absorb and so Jim tells you which ones to buy that work the same day you take them!
Save on Shipping & Handling by watching this program online.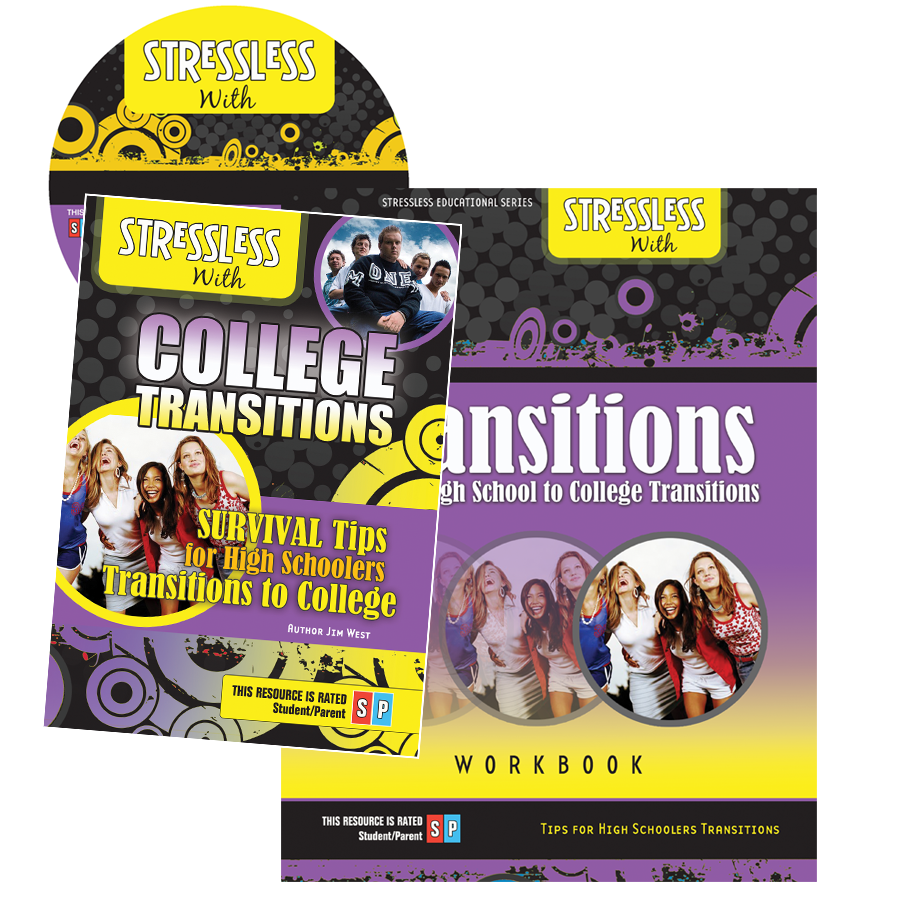 Transitions to College And Survival Tips for High Schoolers

Total Program Video & Workbook Combo | Price Only: $35.00
Topics for College Transitions
Pick the right career with the best online assessment. There are hundreds of online career assessments but the one Jim West recommends tells you:

Is it a growing career

How fast is it growing

There is a find jobs button to look for internships and jobs when done with your degree

Connects you to local chapters of national organizations in your field to network with professionals

Matches a career based on more than just your interests, but also your personality, identity, values and knowledge skills and abilities.

Learn how much your job matches pay in whatever US zip code you pick

Are you concerned about having a job when you complete your degree. Pick a career where there is jobs!

Learn ways to connect with national organizations & local chapters in your area to start networking and find internships in your industry!

Learn about how diet effects motivation, how we feel and focus!

Are sleep patterns important

Use the same tool Fortune 500 companies use to find your strengths and change your job description for you so you can only do what you are great at doing naturally!

Go into job interviews knowing your strengths and how they line up with the job description for the job you want.

"Wise people learn from other's mistakes!" You will learn from other college students what not to do from their own experiences.

Choosing colleges

How to apply to college, write an essay, personal references, etc.

Developing new social circles and organizations/clubs

What you can do during college to get experiences that will reflect well on your resume!

Finances

College with ADHD
There is a 30 Day Money Back Guarantee! We are sure you will be satisfied and you can keep the workbook and video even after getting a full refund!

Jim West, MA, LMHC, NCC
is an author, international communicator, coach, nationally certified and licensed counselor and specializes in Oppositional Defiance & Attention Deficit Disorder.
Consultation Services – Additionally, Jim West is available to implement this Consultation and others at your school or youth group.
Call us at 407-248-0030 or use our Contact Us page and please include your name, company/organization, date and location. We will follow up with you directly about scheduling to add greater value to your audience. Thanks!
Call us for College or Career Coaching – (407) 248-0030