Tragedy struck a Tampa movie theater when 71-year-old Curtis Reeves got into an argument with another moviegoer over texting. The two men exchanged words that gradually became more heated and Reeves felt something hit his face. It was alleged that Chad Oulson threw popcorn at Reeves. Police reported, Reeves, who minutes earlier had gone to seek a manager's help to stop the texting, came back into the threatre and reached into his pocket for a pistol. Reeves, a retired police officer, told police he feared the man was going to attack him and pulled a gun and shot once, hitting Chad Oulson in the chest and Nicole Oulson, in the hand as she was using to grab her husband in an attempt to calm things down. As the victim struggled to breathe and fell onto two other patrons, Reeves sat down. An off-duty deputy five seats over charged toward him and grabbed the gun, which had jammed.
Chad Oulson died later at a hospital. His wife's wound was considered non-life threatening.
Channel 13 interviews Total Life Counseling Centers experts on marriage, adhd, anxiety, depression, sexual abuse and more.

Questions on everyone's mind about this shooting?
All of us have been annoyed by people texting at the theatre, or talking on the phone during a movie, but may Americans are asking themselves how could a man could shoot another over texting?
What could trigger a man to take someone's life in a movie theater over being bothered by texting?
As a society we have been dealing with road rage for decades but could there be a new phenomenon called texting or technology rage?
The use of cell phones has increased dramatically in the last decade due to the smartphone. It seems that about anywhere you go publicly you see dozens of individuals on their phones such as at the grocery store, movie theaters, mall, in parking lots, church, texting and driving, etc. To some this new habit can be irritating and perceived as rude but not everyone has the same rules or etiquette about the usage of cell phones. We all have our own boundaries and ideas about what is appropriate socially regarding this. If someone has a different opinion about this it does not give one a right to enforce his or her opinion or boundary on another. The facts in Curtis Reeves' case is still unclear and the altercation started with asking someone to stop texting in the theatre and then it escalated to exchanging words, and then throwing popcorn. However, this escalated to an extreme by taking another man's life for feeling disrespected by a man not respecting his request and boundary. But how do we as individuals respond when we set healthy boundaries with others and loved ones.  Setting healthy boundaries is important and vital for one to have in their personal lives.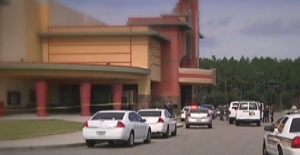 More Videos on This Topic 
7 Tips to Express your Boundaries 
When you identify the need to set a boundary, do it clearly, calmly, firmly, respectfully. Do not justify, get angry, or apologize for the boundary you are setting.
You are not responsible for the other person's reaction to the boundary you are setting. You are only responsible for communicating your boundary in a respectful manner. If it upsets them, know it is their problem. Some people, especially those accustomed to controlling, abusing, or manipulating you, might test you. Plan on it, expect it, but remain firm. Remember, your behavior must match the boundaries you are setting.
If someone refuses to respect your boundary, it is your responsibility to have self-control and to either end a relationship with that person or walk away from that situation that is bothering you. Responding in anger or aggression is never appropriate and can be harmful to the situation.
At first, you will probably feel selfish, guilty, or embarrassed when you set a boundary. Do it anyway and tell yourself you have a right to self-care. Setting boundaries takes practice and determination. Don't let anxiety or low self-esteem prevent you from taking care of yourself.
When you feel anger or resentment or find yourself whining or complaining, you probably need to set a boundary. Listen to yourself, determine what you need to do or say, then communicate assertively.
Learning to set healthy boundaries takes time. It is a process. Set them in your own time frame, not when someone else tells you.
Develop a support system of people who respect your right to set boundaries. Eliminate toxic persons from your life—those who want to manipulate, abuse, and control you. (7 Tips modified from the book, Boundaries: Where You End and I Begin, by Anne Katherine)
If you need help or assistance in understanding what healthy boundaries are and how to set them life coaching and counseling services can assist you with this need.
More Videos by Dana 
NOTE: you can freely redistribute this resource, electronically or in print, provided you leave the authors contact information below intact.
Author: Dana West, MSW, LCSW is an Orlando Marriage Counselor & Addictions, Sexual Abuse Trauma Therapist with Total Life Counseling Center with offices in Southwest Orlando, East Orlando, Winter Park, Lake Mary & Clermont Florida. Total Life Counseling Center specializes in helping victims of bullying and our experts can be reached at (407) 248-0030.