Hazing: Bringing Unity Through Degradation and Violence?
Bria Shante Hunter was beaten three weeks before Robert Champion died and Robert Champion told Bria not to give in to the hazing.  Bria, however, felt she had to put herself through the hazing to feel embraced and accepted by the Marching 100.  She was punched in her thighs at least 20 times which broke her femur (thigh bone) and she had blood clots and deep bone bruising.  Bria is leaving the school and has a full scholarship.  Three students were charged for this abuse!
When Florida A & M University (FAMU) marching band member Robert Champion left for Orlando the weekend of November 19th, he didn't realize he would be the victim of a fatal hazing. That Saturday, he was literally beaten to death by other members of the marching band. But what could cause his own band members to want to inflict harm on one of their own?
More Videos on This Topic 
What is Hazing?
Sean Hobson, 23, and Aaron Golson, 19, were charged Monday with hazing and battery, and James Harris, 22, was charged with hazing Bria Shante Hunter.  Hazing has been around for hundreds of years. Its presence exists in schools, universities, social groups, athletic teams, and organizations across the United States and throughout the world. In a national study surveying 11,482 college students ages 18-25, 55% of those involved in clubs, teams, and organizations experience hazing (Allan and Madden, 2008). By definition hazing is any ritual or activity involving harassment, humiliation, or abuse as way to induct members into a group. Hazing can happen over a period of a semester or an entire year.  The effects of these rituals can be physically as well as emotionally damaging. In some cases, as in the case of FAMU student Robert Champion, hazing can be deadly, but it still continues even with the publicity over the past several years!
Why does Hazing happen?
Before we as a society attempt to take action against hazing, it is crucial to understand the psychology behind such harmful acts. First, we must answer these questions: What could cause sane individuals to want to inflict harm on others and what could cause sane individuals to allow harm be inflicted on them? Athletic teams, Fraternities and sororities, Several psychological theories suggest answers to these questions:
Conforming and Obeying Authority

– In Bria's case she obeyed authority conformed to her groups authority out of fear of rejection and to feel embraced and a part of the group.

Cognitive Dissonance

– It's against the law to Haze, but if the victim says anything to authorities they will be ostracized from the group for their college years.

Abuse = Abuse | Cycles of Abuse

– Those who have been abused often abuse others as a way to seek revenge.  Without proper resolution or counseling for their abuse, physical, sexual and emotional abuse victims in most cases will become physical, sexual or emotional abusers.

Acceptance comes at a High Price | Self-Esteem

– As human beings, we want to be liked. Achieving respect and acceptance by members of our groups, regardless of the consequences, satisfies this internal human desire.  Unfortunately, in high school and college campuses acceptance comes at a high price . . Hazing!

Ignorance to Alternative Choices

– Many believe hazing is the only way to induct members into a group because they are unaware of alternative choices.  Team building games, retreats, and outings are amazing ways to assimilate new members into a team!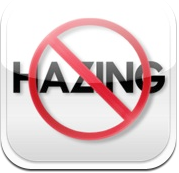 How to Stop It
Schools need to bring in independent surveyors to find out who has been a victim of hazing and start group therapy sessions for those victims of abuse. 

Trauma therapy and forgiveness from the victim to the abuser is another step that could result from counseling or done without therapy to stop the cycle of abuse.

In order to stop hazing individuals must know what to do when they hear or witness acts of hazing and how to go about acting against such events. 

For those of us with iPhones, there's even an iPhone application designed to stop hazing. 

Through this battle to end hazing, it's important for everyone to feel a sense of accountability. Leaders of organizations should be positively creative as they determine ways to induct new members. 

Partaking in community service and team building activities, for example, are positive and effective ways to bring unity amongst new and old group members. 

It's equally important authorities play active roles in bringing an end to hazing.
When hearing about or witnessing hazing, ask yourself how you would feel to hear the news of your son, or brother, or friend being beaten to death as a result of such barbaric practices.
<script src="https://fast.wistia.com/embed/medias/1u8yaxtnwe.jsonp" async></script><script src="https://fast.wistia.com/assets/external/E-v1.js" async></script><div class="wistia_responsive_padding" style="padding:66.56% 0 0 0;position:relative;"><div class="wistia_responsive_wrapper" style="height:100%;left:0;position:absolute;top:0;width:100%;"><div class="wistia_embed wistia_async_1u8yaxtnwe videoFoam=true" style="height:100%;position:relative;width:100%">&nbsp;</div></div></div>
Note: You can freely redistribute this resource, electronically or in print, as long as you leave the author's contact information intact.
Author & Edited by James L West, MA, LMHC, NCC & Laura E. Clark, BA