Toddlers and Tiaras: Sexualizing Children | 5 Tips to protect your child
The TLC Toddlers and Tiaras reality series comes back for a fourth season and  creatively highlights the behind the scenes lifestyle of beautiful little girls clawing for the crown…with the assistance of their parents. Some suggest that this is a threat to a child's development process and encourages a false sense of entitlement. In addition, it is believed to provoke a strong sense of over-sexualization of young girls.
What is sexualization?
The American Psychological Association defines sexualization as
a person's value comes only from his or her sexual appeal or sexual behavior, to the exclusion of other characteristics;
a person is held to a standard that physical attractiveness (narrowly defined) with being sexy;
a person is sexually objectified—that is, made into a thing for others' sexual use, rather than seen as a person with the capacity for independent action and decision making; and/or
sexuality is inappropriately imposed upon a person.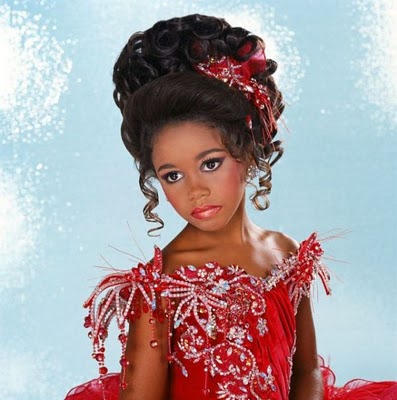 "Virtually every media form studied provides ample evidence of the sexualization of women, including television, music videos, music lyrics, movies, magazines, sports media, video games, the Internet and advertising (e.g., Gow, 1996; Grauerholz & King, 1997; Krassas, Blauwkamp,& Wesselink, 2001, 2003; Lin, 1997; Plous & Neptune, 1997; Vincent, 1989;Ward, 1995). Some studies have examined forms of media that are especially popular with children and adolescents, such as video games and teen-focused magazines" (American Psychological Association).
Does beauty pageants expose contestants to inappropriate sexualization? And will developmental challenges emerge because of over-sexualization?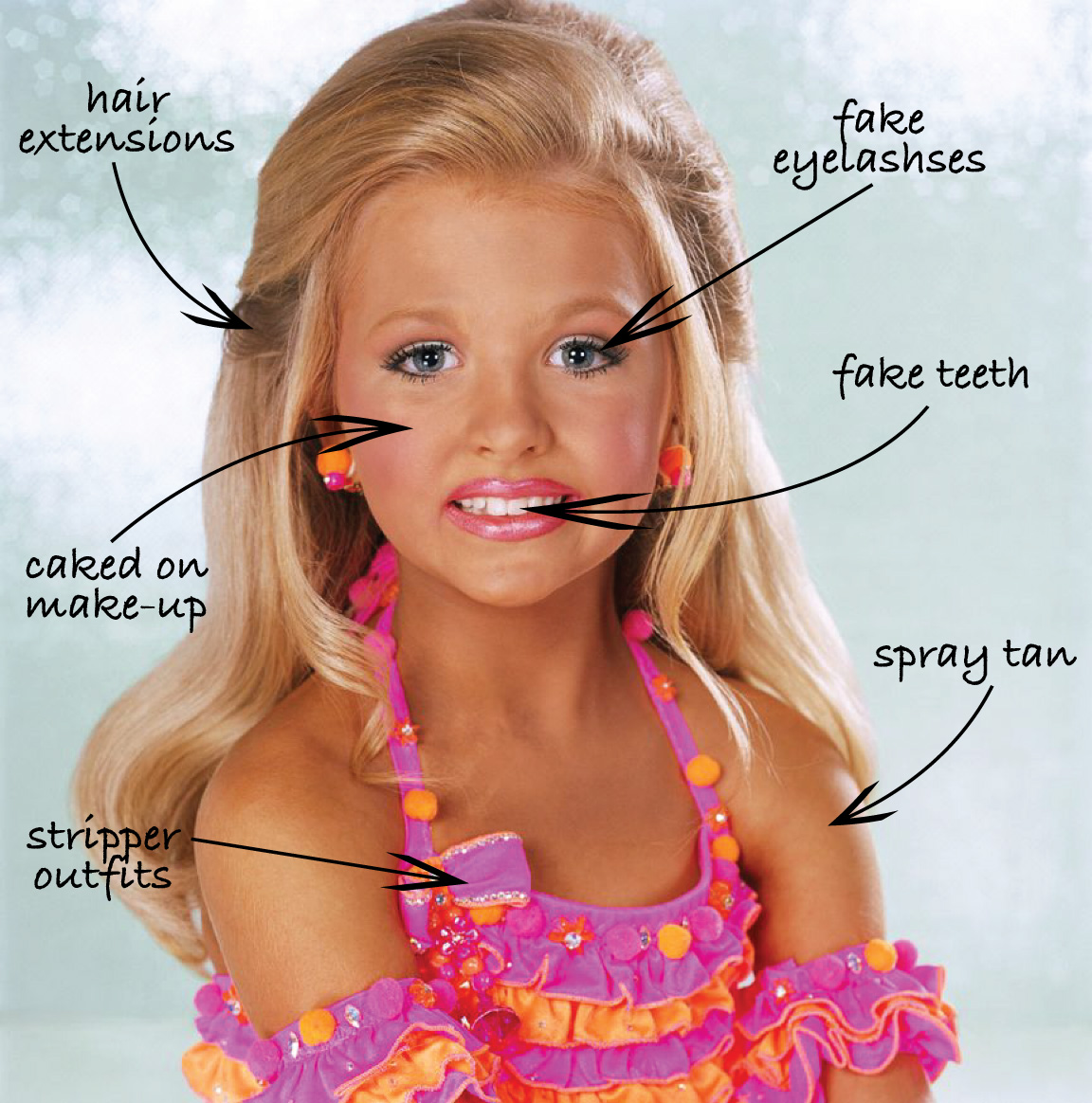 From beauty pageants and marketing to fashion models and music videos, our American culture has experienced a flood of over-sexualized images, messages, and ideas. Toddlers and Tiaras is merely a small portion of a larger picture of sexual fascination in our society. The concern for the children is the possibility of developmental distortion of reality. The superficial expectation of beauty may develop based on the false enhancement of one's exterior features. False eyelashes, hair extensions, false teeth plates, excessive makeup, and over the top costumes may become part of the distorted image of beauty. Developmentally, a toddler is unable to distinguish between pageantry and reality. This is an area where parents are suggested to create balance and stability for children.
How does Advertising over-sexualize children?
The world of advertising has used adult sexuality to sell everything from toothpaste to potato chips. The marketing barriers that once protected children from inappropriate sexuality has now become fluid, allowing an improper shift of sexualization. Children, especially girls, are targeted by advertisers and are encouraged to follow sexy fashion trends that are more suitable for women. Today, thongs, padded bras, midriff revealing blouses, and hot pants are among the fashion must haves.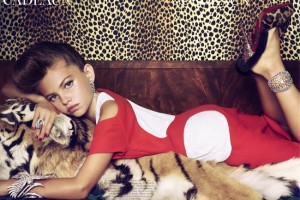 The Manila Times gave details on the report, titled "Letting Children Be Children: the Report of an Independent Review of the Commercialization and Sexualization of Childhood," which identified four key themes that were of particular concern to parents and the general public. The Themes are as follows:
Theme 1 was called the "wallpaper" of children's lives, by which it meant the increasingly sexualized culture in which children are living. Many parents reported feeling that this culture is often inappropriate for their children.
Theme 2 was about the clothing, products and services for children. The report acknowledged that these issues are often not clear-cut.
Theme 3 centered on the subject of children as consumers. They are under pressure from many sources to act as consumers. While the objective is not to cut them off from the commercial world the report noted that parents complained about companies that pushed the boundaries in their advertising.
Theme 4 related to making parents' voices heard. Sometimes parents lack the confidence to speak out on the issues covered by the report, and other times they feel that businesses don't pay attention to their concerns.
Here are Five Tips to help Protect Your Child
Protect: Take time to understand what your child likes and take time to protect them from negative influences through media, advertising, fashion, and music.
Educate: Sex education and understanding pop culture is necessary for effective communication. Take time to educate yourself and your child on what to expect at each stage of sexual development. In addition, it is a good idea to research sex-education programs that you and your child can participate in together.
Navigate: Sex in today's pop culture is tough to navigate. Although these waters of uncertainty may be ambiguous in nature, it is important to assist your child in navigating his/her sexuality in a healthy manner.
Encourage: Assist your child in understanding the importance of uniqueness. Encourage him/her to get involved in social groups, community efforts, school activities, and/or sports. Encourage your child to invest in non-appearance driven interests.
Listen: Remember, your child needs your help. Over sexualization has become an issue that preys on the young (especially girls). Take time to listen to your children and what is important to them. Understand peer pressure and how it influences your child's decisions.
If you or someone you know are struggling with, depression, anxiety, or stress due to low self-esteem, sexual abuse, or over-sexualization issues, contact a counselor for assistance.
NOTE: You can freely redistribute this resource, electronically or in print, provided you leave the authors contact information below intact.