Barbie 2.0 Curvy, Tall & Petite: 3 Lesson Barbie Teaches Girls About Self-Esteem | Lake Mary Self Esteem Counselor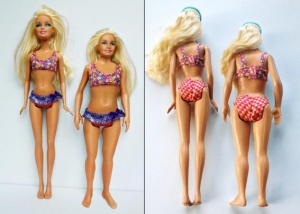 On Thursday Barbie's manufacturer, Mattell, announced that they will be ending a 56 year-old tradition of their just one size Barbie Dolls and will now be replacing it with dolls that are more realistic and proportionate in size to reflect girls and women of all shapes, colors and sizes. The new dolls will now feature four body types: regular, curvy, tall and petite. They will also have seven skin tones, 22 eye colors and 24 hairstyles. "We believe we have a responsibility to girls and parents to reflect a broader view of beauty," says Evelyn Mazzocco, senior vice president and global general manager of the Barbie brand.
For many moms this comes after years of watching our girls play with Barbie dolls and wishing they were more reflective on their own race and body types. Although some incremental changes have been made over the years like skin color, the size and proportion of dolls remained the same. In 2006, a British study of girls ages five to eight found that those exposed to Barbie had a less favorable view of their own bodies. These girls ended up wanting a thinner body than did girls not exposed to the doll.
The Alliance for Eating Disorders Awareness reports that 90 percent of those with eating disorders are young women between the ages of 12 and 25. With the prevalence of eating disorders manifesting it earlier in the lives of girls even in elementary school, it is important to present girls with dolls they can be proud of instead of ones they might feel they don't measure up to.
Here are 3 Lesson Barbie Teaches Girls About Self-Esteem
1. Beauty Comes in All Shapes, Color and Sizes. When playing with Barbies, moms can now ask questions about their daughter's dolls and feel free to share the obvious with them, "this one looks like you, she has beautiful hair just like you." Doing so will help to make Barbie more relateable to the girls that play with them.
2. I Can Have Fun and Aspire to Anything No Matter What I Look Like. Barbie has had hundreds of careers over the years and gone on many amazing adventures. Now that kind of imaginative play won't just be for dolls that are blue-eyed, blond and tall.
3. Friends Also Come in All Shapes Colors and Sizes. It is important to expose our children to friends and people who don't necessarily look like them so lessons like tolerance, compassion and respect are easy to learn. With the new variety of Barbies, girls can now model these same lessons in their play while having fun.
It is important to first teach girls that true beauty comes from the inside out and to give girls a variety of dolls to play with. However, as a mom with a bi-racial daughter who went to 3 different stores this past Christmas looking for Barbie dolls that looked like me to give to her, it feels great to know that that task will be much easier in the future.
Note: You can freely redistribute this resource, electronically or in print, as long as you leave the author's contact information intact.
Author: Lyris Steuber, MA, LMFT is a Lake Mary Marriage Therapist & Couples and Individual Counselor with Total Life Counseling Center. Total Life Counseling Center specializes in child teen self esteem, marriage and family therapy.  Our experts are interviewed often by the TV News for their expertise and can be reached at (407) 248-0030