Leadership Coaching and Development Seminars in Orlando, East Orlando, Lake Mary, Winter Park & Clermont Florida FL
LEADERSHIP
COACHING
TLC offers services in the Central Florida area including: Metro West, Winter Park, Lake Mary, and Clermont Florida FL.
While leadership is easy to explain, leadership is not so easy to practice. Leadership is about behavior first, skills second. We can probably recall working with or working for a person that had all the skills to be in their position, but when it came to their behavior….well enough said.
When it comes to developing your personal leadership skills, keep in mind there is no "cookie cutter" approach or one size fits all method to developing them.
LEADERSHIP DEVELOPMENT SEMINARS
HABITS FOR EFFECTIVE LEADERS
This workshop is designed based on concepts from Stephen Covey's THE 7 HABITS OF HIGHLY EFFECTIVE PEOPLE. You will explore some habits of highly effective people that you can begin today or use to renew your leadership career.
TOOLS FOR BUILDING YOUR PERSONAL LEADERSHIP SKILLS
Do you have the skills to become an effective leader? Do you know how to discover and develop your strengths, define and promote your vision, and create a life in harmony with both achievement and satisfaction? In this workshop, you will synthesize concepts and strategies from psychological, physiological, sociological, and entrepreneurial traditions to construct your personal building blocks for leadership.
BUILDING ON THE SEVEN HABITS: A PRACTICAL GUIDE TO ACTION
This seminar introduces the concepts within Stephen Covey's book, The 8th Habit, to assist you to begin the process of creating your own action plan based on your personal goals. This seminar examines the whole person.
POSITIVE CONFLICT RESOLUTION SKILLS
Conflict can endanger relationships, but if handled well, it can also provide opportunities for growth, ultimately strengthening the bond between two people. Since relationship conflicts are inevitable, learning to deal with them (rather than avoiding them) is crucial. Learn the skills you need for conflict resolution, and keep your relationships strong and growing.
TEAMBUILDING
Our training includes some simple tools of quality / productivity improvement which people, at any level, can use. The effect is commitment to quality / productivity improvement and the promotion of open decision making. Our team building training emphasize the need to break down barriers.
WHY IS LEADERSHIP COACHING IMPORTANT?
Leadership is more than skills and talents. We lead out of who we are on the inside, from our past training and personal experience.
Why do people need this type of coaching?
Professional
You will explore your particular blend of talents, abilities and past experiences in order to achieve professional effectiveness and success.
Personal
You will identify unresolved personal issues that could result in disillusionment, burnout, or loss of focus and effectiveness.
Interpersonal
You will discover how to confront problems that interfere with your ability to relate effectively with others.

WHAT IS LEADERSHIP COACHING?
Leadership Coaching is designed to help individuals achieve effective results in their personal and professional life. Leadership Coaches are committed to helping individuals improve their performance, their relationships, and enhance the quality of their life.
WHAT DO PROFESSIONAL LEADERSHIP COACHES DO?LS
Leadership Coaches are trained to listen, to observe and to customize the approach to the individuals needs. Our role as the coach is to assist individuals to identify important goals and priorities; strategize on how to reach goals and to overcome obstacles to achieve them.
HOW LONG WILL I NEED A LEADERSHIP COACH?
Leadership Coaching is an ongoing partnership. Our desire is to work with you develop a relationship of trust in order to provide that safe and accepting environment that enables you to explore your full potential. Basically, you decide when you feel satisfied with your accomplished goals.
LEADERSHIP COACHING WILL FOCUS ON THE FOLLOWING AREAS
Self-Awareness (self- assessment, self-confidence, etc)

Self-Management (self-control, transparency, adaptability, Initiative, etc)
Social-Awareness (empathy, organizational awareness, service, etc)
Relationship Management (inspiration, developing others, conflict management, collaboration, etc)
IS LEADERSHIP COACHING FOR YOU?
The Leadership Coaching client is someone who wants to reach a higher level of performance, learning, or satisfaction. Leadership Coaching is a designed alliance that requires the client to be committed to "intentionally developing or strengthening an aspect of who they are or who they want to be, or both."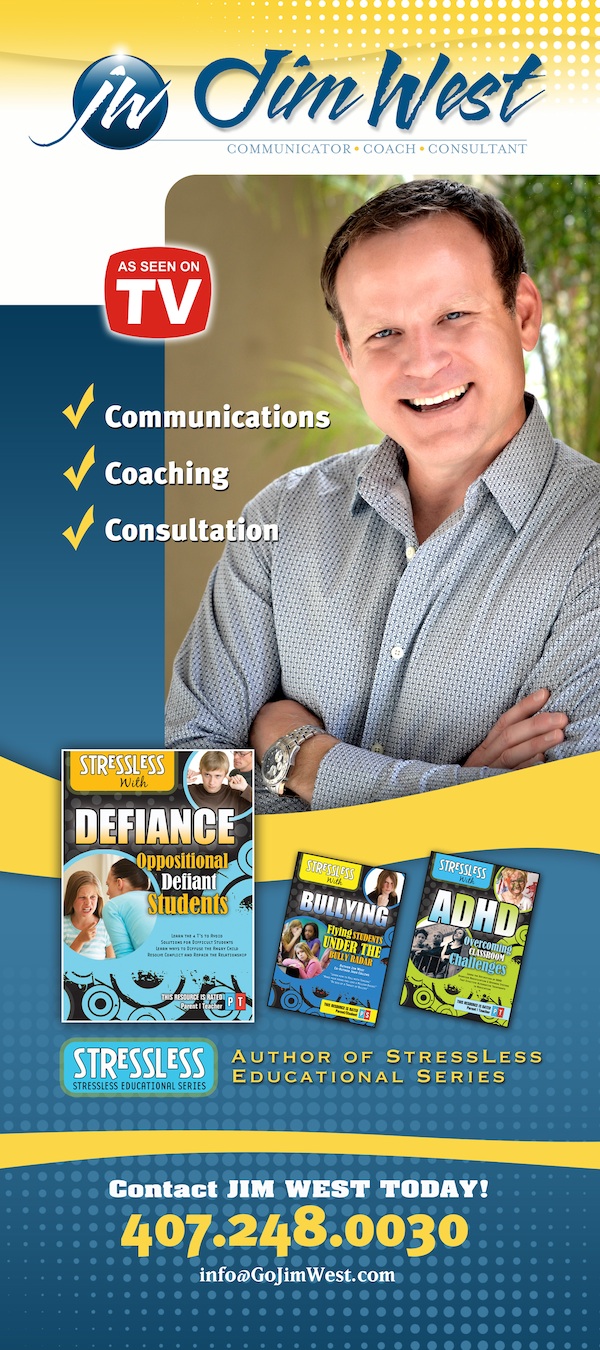 Jim West, MA, LMHC, NCC is asked to speak internationally at organizations, churches and school assemblies on various topics. Jim is also asked to train or speak at various events for professional state, national and international organizations. Jim is often the top requested speaker.
Call today and receive a complimentary 15 minute phone consultation – (407) 248-0030
Resources
Now Discover Your Strengths By Marcus Buckingham & Donald O. Cliftion, Ph.D.
Seven Habits Of Highly Effective People by Stephen R. Covey
The Eighth Habit by Stephen R. Covey
Lifescripts: What to say to get what you want in life's toughest situations by Stephen M. Pollan & Mark Levine
How to Use Power Phrases: To say what you Mean, Mean what you Say, & Get What you Want! by Meryl Runion
Developing the Leaders Around You by John C. Maxwell
Developing the Leader Within You by John C. Maxwell
Good to Great in God's Eyes by Chip Ingram
Speak To An Expert About Oppositional Defiance Disorder – (407) 248-0030

TLC Experts in the News!
NEWS INTERVIEW: FOX 35 Interviews Child Adolescent Expert Jim West
Who is Jim West in 45 Seconds!
Channel 13 on Leadership Social Skills Camps & Services