Orlando Video Gaming Electronics Counselor Expert Interviewed by Fox 35 to Discuss Ways to Help!
5 Behaviors from Video Games and Gaming Addiction
"It is just a game!"  Is this a common response from your children when you question the violent content of their video games? It is possible that children, teens and adults can be negatively impacted by playing these games for an extended amount of time.  There is more and more research for long term effects in this area, and there are numerous valid studies on possible short term effects.  It is concerning that the some of the most popular games today all involve the following behaviors:
1)      The killing of people and animals  (Bulletstorm, Manhunt 2, Splatterhouse, God of War)
2)      Use of drugs and alcohol  (Grand Theft Auto, Bully, World of Warcraft)
3)      Criminal behavior and disrespect for the authority and law  (Grand Theft Auto, God of War, Splatterhouse)
4)      Sexual exploitation and violence towards women and nudity (Grand Theft Auto, Bulletstorm, Manhunt 2, God of War)
5)      Racial, sexual, and gender stereotypes (Grand Theft Auto, Bulletstorm, Manhunt 2,God of War,Splatterhouse, Bully)
6)      Foul language, obscenities, and obscene gestures (Call of Duty, Ghost Recon, Grand Theft Auto, Manhunt 2, Bulletstorm, God of War, Splatterhouse, Bully, World of Warcraft)
The method of repetition is considered to be an effective teaching method used to reinforce learning patterns.  When adolescents experience high levels of exposure to these games it begins to reinforce behaviors they are watching and learning.  Some expected outcomes of this exposure are:
1)       Increased aggression (especially when the adolescent encounters conflict)
2)      Prone to confrontation with peers and teachers
3)      Decline in school achievement
4)      Become numb or immune to the horror of violence – The military use games like Call of Duty Black Ops to desensitize the effects of killing.
5)      View violence as a way to handle problems
6)      Delayed social skills as a result of isolating and playing for hours daily as well as a false sense of making "friends" online.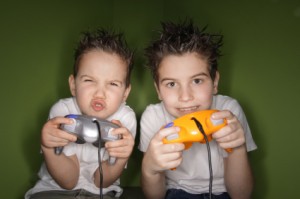 This does not suggest that all adolescents will respond in these ways, but it is a potential risk.  There are steps that can be taken by parents to prevent these behaviors:
1)      Know the ESRB rating of the game (Entertainment Software Rating board)
2)      Monitor all media consumption
3)      Set limits – Moderation is key.  Researchers have found that more than 30-60 minutes of intense video games can burn out the child's Dopamine.  Dopamine can also cause an addiction, hyperfocus or obsession on the game. Dopamine is to help with focus with homework, chores, and schoolwork.
4)      Xbox has parental controls that allow how much time each day, limit specific game ratings, and more!
5)      Communication – Set aside time with your children to discuss how they feel about what they are observing in these games.
If you or your adolescent is struggling with these behaviors or possible addictions, contact a counselor that understands gaming addiction.
Fox 35 Orlando interviews Jim West, MA, LMHC below about Video Gaming Addiction as a new diagnosis according to the World Health Organization (WHO):
Video Game Addiction is now a diagnosis according to the World Health Organization. The American Association of Pediatrics has issued the following guidelines for  how to balance video games and social activities to build social skills, self esteem, hobbies and skills building.
Up to 2 Years Old – No screen time foreground or background before 2 years old.
6 – 9 years Old – 1 min Screen Time for 5 Minutes of Social or non-electronics play.  Max screen time 30 minutes per day with 150 minutes of non-electronics play for imagination, building, riding bike, exercise, playing outside, board games, etc.
10 – 12 years Old – Pre-Teen 1 min screen time for 3 min of non-electronics or social play up to 1 hour of screen time.
13-15 Years – 1 minutes screen time for 2 minute of non-electronics play or social interaction up to 1.5 hours of screen time a day.
16 Years Old – 1 minutes for 1 minute of non-electronics play or social interaction up to 2 hours of screen time a day.
Mobile Electronics apps to set a schedule for electronics – www.OurPact.com & www.Meetcircle.com
Video Gaming Addiction symptoms include:
impaired control over gaming (frequency, intensity, duration)
increased priority given to gaming
continuation or escalation of gaming despite negative consequences
<https://www.youtube.com/redirect?redir_token=2MvmDT5hKAK68DVkmhmEqSDC3lh8MTUxNTUyMDMwNUAxNTE1NDMzOTA1&v=p3ahsDcgujw&q=https%3A%2F%2Fwww.totallifecounseling.com&event=video_description> or call us at (407) 248-0030
NOTE: You can freely redistribute this resource, electronically or in print, provided you leave the authors contact information below intact.
CBS: Gaming Addiction and Predators: Predator meets victim on World of Warcraft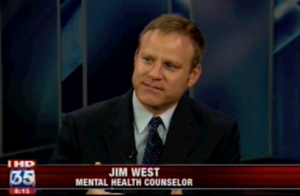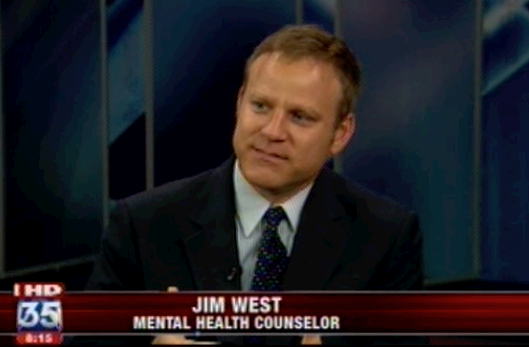 President of Total Life Counseling Center & Child/Teen/Young Adult Counselor Jim West helps children and adults with video game addiction. Share with a concerned friend or parent! Watch the video to get helpful tips to identify if it's video gaming addiction.
For help with your teen or adult, licensed mental health counselor and president of Total Life Counseling Center can help via online counseling or in person. Visit our site at https://www.totallifecounseling.com or call for online or individual counseling at (407) 248-0030
Co-Written by Alicia Barilla & Edited by Adolescent Expert Jim West, MA, LMHC, NCC